In case you're wondering, I believe this contest is open to international participants.
In the last contest, Lee organized, I won an iPod Touch, $250 from CPA Network NeverBlueAds, and a bunch of other prizes in Lee Dodd's last Earner's Forum contest.
About a month ago, it was announced that Webmaster Talk and Earner's Forum were merging, forming one of the largest webmaster forums (as of today, it has 57,000 registered members).
There're a number of cool features like the publication of your blog's RSS feed (similar to what forums like DigitalPoint currently offer) as well as Ad Revenue share (through Google AdSense).
I think everyone will be most interested in the prizes…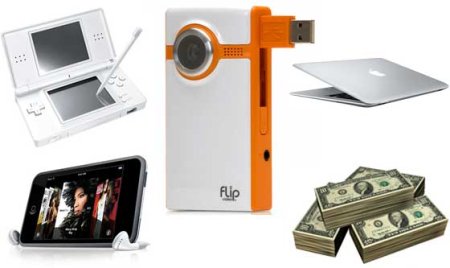 They include:
A beautiful new Macbook Air laptop from ClickBooth valued at $1,800
A Copy of Interspire Shopping Cart (Professional Edition) valued at $995
$500 cash in a Max Bounty affiliate network account
Another $500 in the form of a Text Link Ads gift certificate
Another Apple product, the iPod Touch from Rocket Profit
Another $250 cash in a Pepperjam Network account
Custom T-shirts printed for your headline website from Ndesigns. 24 Custom Printed Shirts (color T's, 3-4 color printing, one-sided).
The hottest new camera for blogging, The Flip, is provided by Advaliant
Speaking of blogs, the MOST AMAZING paid theme ever is now yours from Revolution Theme and it isn't just one, but the complete multi-pack!
To help you relax that hard working brain of yours, we close the package out with a Nintendo DS Lite from RevResponse!
3 Free months of Aaron Wall's SEO Training can only be good for business!
Contest winners are determined by the number of points you accumulate through various forum activities such as referring new members, publishing quality forum posts, writing articles, blogging about the contest, etc.
I guess my favorite pick from the lot are the cash bonuses. I probably have enough computers and MP3 players to last for some time, but they can always be sold on eBay to generate a little cash for your PPC campaigns or keyword or other research tools.
If nothing else, the contest will give you something to do once your Mother's Day campaigns are set up.
If you haven't signed up as a member yet, you can register for Webmaster Talk to enter the contest.
Good luck!