I was surfing through Amazon and saw an interview with real estate mogul and star of The Apprentice, Donald Trump.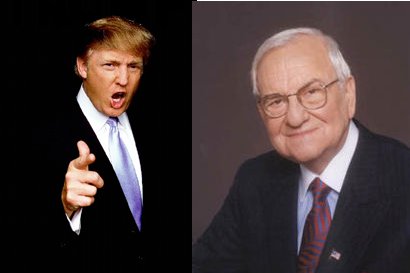 (Left-to-right) Donald Trump and Lee Iacocca
Asked: "Did you really make (former Chrysler CEO and Ford President) Lee Iacocca cry?"
The Donald answered: "No, he made himself cry."
Another question:
Amazon.com: Was there ever a time when you didn't think big enough?
Trump: I don't think so. I always had big plans, even when I was very young. I would build skyscrapers with my building blocks.
And finally:
Amazon.com: You're critical of the "give me" attitude that you see in many young people today. What do you look for in a young person you are bringing into your business?
Trump: They have to be eager to learn and willing to work hard. I work hard and I expect the people around me to have a strong work ethic. I need people who can be part of a team and yet be able to think independently. That's one of the qualities I look for on The Apprentice–they have to be capable of both dimensions.
This is part of Donald's book "Think Big: Make It Happen In Business And Life". A new reprint edition came out a couple of weeks ago.
Though some may consider Donald an egotistical, self-serving businessman, there's no doubt that he doesn't pull the punches, especially as he's venting his disagreements with Martha Stewart and Rosie O'Donnell.
He goes on to say how he's "been able to date (screw)" beautiful women.
I had a great time going through his previous books "How To Get Rich" and am working through "How To Think Like A Billionaire". He certainly isn't known as The Donald, or by his last name, Trump, for nothing.
"Think Big: Make It Happen In Business And Life" has been rated on of his best books and I'm looking forward to checking it out.
While Amazon's prices are some of the best around, having the books shipped around the world incurs significantly higher shipping charges that I'd rather spend on more books. I'm building up my booklist that I'll be filling on my next trip to the US (likely in January for the Affiliate Summit).
Some of the other items on my shopping list include:

* Dan Kennedy's Ruthless Management Of People And Profits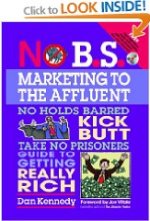 Dan Kennedy's Marketing To The Affluent
Both of Dan's new books which were published earlier this year have received high praise from my inner circle. A member commented that implementing a couple of techniques from "Marketing to the Affluent" has given a boost to his company's sales.
-
I also noticed that Amazon is doing a promotion on Amazon Prime till the end of October.
This service allows you to get items shipped to you within 2 days for free, or for 1-day shipping at $3.99 per item.
If you are continually investing in your education by buying books often, the Amazon Prime trial (Where you enjoy the benefits of Amazon Prime for free for a month) more than pays for itself.