If you missed it, check out: Affiliate Summit West 2009 in Pics and Words (Part 1).
Here's more goodness from the Affiliate Summit: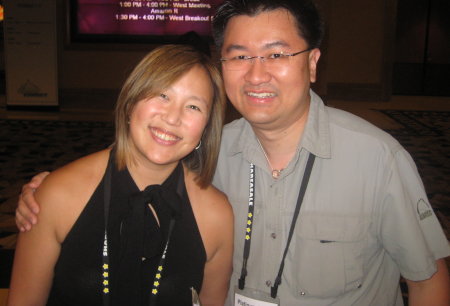 ShareASale's Director of Client Services Carolyn Tang AKA Catango is one of the most pleasant and knowledgeable individuals in the industry and it was a pleasure to talk to her at the SaS booth, even though there were lots of people there.
As a tradeshow visitor, I've got more than my fair share of t-shirts, notepads, pens, paper weights and stationery to last 2.5 lifetimes. I liked how SaS did a little out of the box thinking to provide a photobooth where affiliates took some crazy pics (I'll post mine later), and thoughtfully gave out baby T-shirts and bears. For affiliates with families or significant others, they'll likely be seeing the SaS logo on a teddy bear or baby T for some time to come. (a good thing).
Check out the Friday Podcast interview on Affiliate Program Strategies with Carolyn Tang.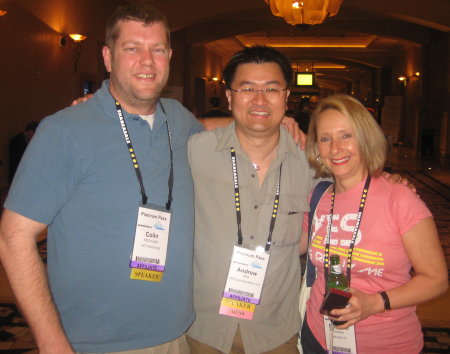 It was cool hanging out with top affiliates Colin "Google" McDougall and Ros Gardner over dinner at the Nobu Japanese restaurant at the Hard Rock for the private launch of Jim Lillig's Offeratti network.
Considering that Colin doesn't take raw food, it's a testament to the great food at Nobu that Colin was enjoying the sashimi with the rest of us during the meal. It was also interesting to hear Colin tell his stories about his towed trailer that he rolls out for holidays. And if you're looking for inspiration as you're working towards your ideal affiliate lifestyle, Ros has bought a lot of nice toys/trinkets to enjoy the fruits of her labor.
It was great to meet affiliate network Market Leverage's marketing manager Dina Riccobono after talking to her over IM and being interviewed for MLTV late last year.
Market Leverage has a proactive outreach and affiliate recruitment program and it's refreshing to see a network take the intiative in getting to know affiliates. They hosted a dinner at Switch at the Encore hotel, with Market Leverage CEO Mike Jenkins in attendance. It was a great opportunity to talk to affiliate managers Mike Kelly and Jen Fluker to get insight into how affiliate managers operate.
At the dinner, Mike announced the launch of Market Leverage's greenlinks program, which provides links to video-based affiliate training from the ML website interface.
Here's an earlier Friday Podcast with Market Leverage CEO Mike Jenkins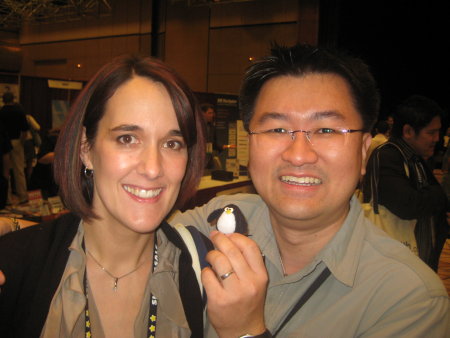 Jen Goode, better known as JGoode, headed the Affiliate Summit mentors program and did a great job (I believe there were more than 100 mentees in the program). I also had a picture taken with the penguin and nearly kidnapped him. Ah well, maybe next time.
In the meantime, check out the Friday Podcast with Jen talking about Print-On-Demand product strategies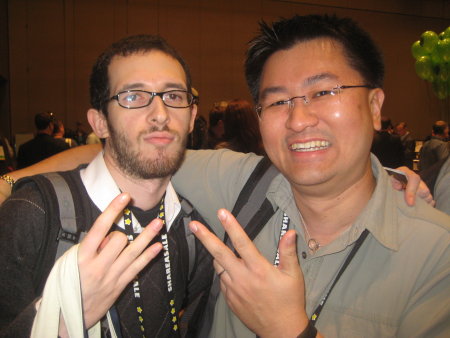 With Jon Fisher AKA AOJon , founder of the WickedFire affiliate marketing forum. I started making these "gang signs" because a number of the "affiliate gangstas" started making them.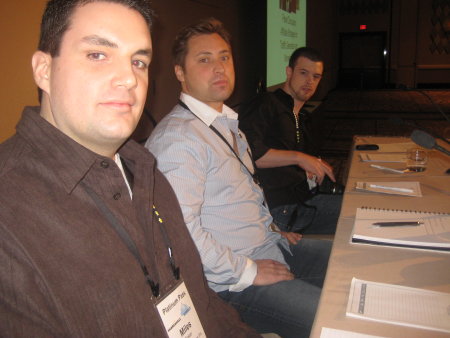 Before the panel discussion on Affiliate Strategies for Traffic Generation and Sales Conversion on the first day of the summit with Miles Baker, Geordie Carswell, Nickycakes.
The session went well with positive (more…)