Chris Pearson is a smart designer/developer who's latched on to the emerging trend in publishing – the move away from elaborate, bandwidth-heavy, ornate websites to the more subtle, clean design that's seeing its way on more progressive blogs.
Is this an influence of the minimalist style micro-blogging platforms like Twitter? It's hard to say, but having a simple, yet intuitive design will give blog visitors easier access to your content and reduce the distraction that a cluttered blog template can create.
Chris' Thesis WordPress template has been around since last year, so it's not exactly a new kid on the block. In that time, it's made its way on a number of blogs, especially based on its strengths.
I'd been looking for a clean and SEO-optimized template for use on a number of new content sites I'm in the process of developing and after reading a Thesis review by Rae Hoffman AKA SugarRae, it sealed the deal for me.
Here's what the default installation looks like: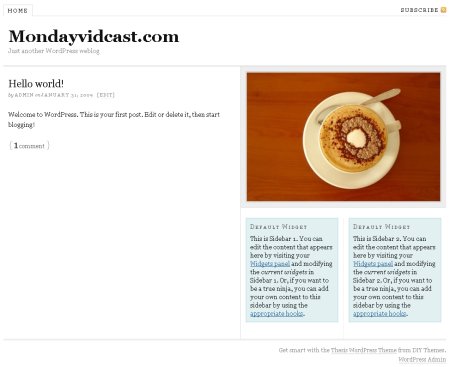 As you can see, it consists of a text area on the left and a prominent "multimedia box" in the top right, with 2 text columns below.
This 3 column design gives you flexibility in deciding how you'd like to layout your blog elements.
One key is the multimedia box allows you to display graphics, ads, an opt-in box, a product shot, text box, or anything that fits within its dimensions easily.
I think the trend toward simplicity and ease-of-use in web design and blogging will continue to be a theme, as sites move away from a Swiss Army Knife "all-in-one" information overload approach with 50 hyperlinks on a page to something that's easily accessible, especially as users more familiar with the simple user interfaces found on MySpace and Facebook discover there's a whole world beyond the walled gardens of the social networks.
Experienced bloggers will be familiar with the process of logging into the WordPress theme editor and hacking the PHP code to insert handwritten snatches of code to signal how the search engines should display the title tag and content from the blog post.
If you choose to, that code hacking aspect of blogging can be a thing of the past, leaving you to focus on the core business of writing and publishing content (hopefully you're having fun in the process). With a series of user interfaces: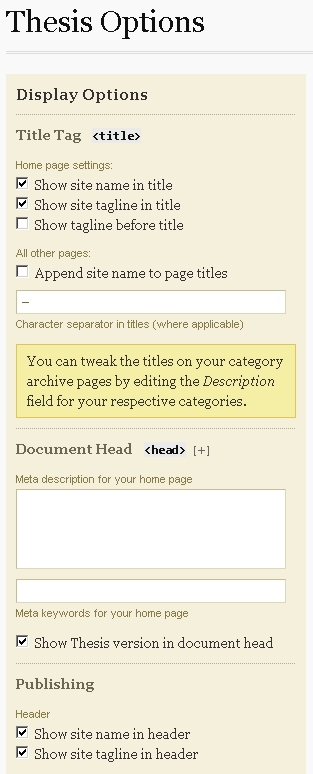 You're left to tick option boxes and type in the free text area how you like the title tags to appear. This used to be a process involving rewrite the PHP command and hoping you didn't destroy your blog in the process.
Although you can use further SEO add-ons like the SEO Title Tag and All-In-One SEO Pack plugins, you can probably make do with Thesis' built-in SEO functionality.
Likewise, with Thesis' server requirements of PHP 5 installed on your webhost account and with a platform of WordPress version 2.7 to operate at an optimal level, you will already have access to WordPress' newer features.
Similarly where editing the element like the Multimedia box (the free display area in the top right corner) used to involve extensive hacking, testing (and maybe a little weeping), it's now easily managed with a series of check boxes and pull down menus: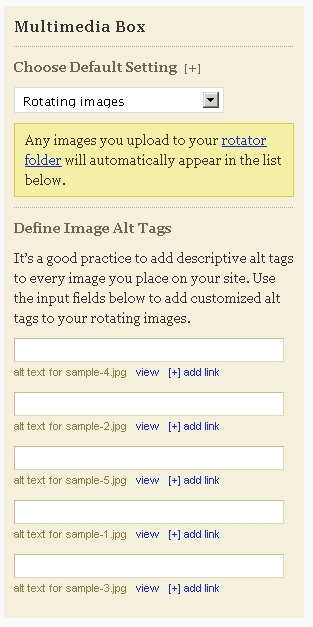 And likewise, insert analytics packages like Google Analytics or 3rd party packages is a matter of pasting the tracking code in the stats boxes: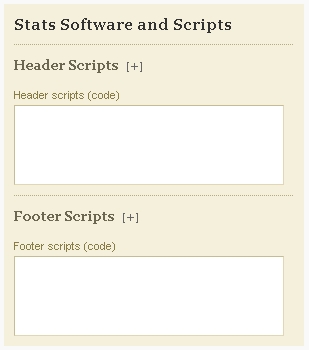 While Thesis' enhancements are not exactly earth shattering because an experienced code could probably add or modify WordPress' raw PHP code, the advantage of Thesis is that you don't have to play with the code (unless you like to), it's just a mouseclick away.
Also, having to spend less time messing around with PHP, means you will have more time to promote your offers and optimize your marketing campaigns.
Pros: Easy to use, especially for beginners. Intuitive option panel layout, built-in SEO functions so your blog gets indexed more effectively. Multimedia box gives you adequate room to publish resource links, images, videos, etc easily.

Cons: If you use your blogging software in an advanced manner, eg: membership site, forum, you will need to insert your custom code into the template, or hire a coder. Likewise, if you've heavily customized your blog, you will need to some effort to transition over to Thesis (These issues will likely only affect more experienced/advanced bloggers anyway).
Currently, Thesis is available in 2 versions:
Personal option (usable on 1 blog): $87
Developer option (unlimited sites, plus you can remove attribution in the footer) $164
There is also an option to upgrade from the personal to the developer version if you decide to later.
-
Since I'm planning to roll out Thesis on at least 5 new blogs, it just made sense to get the developer version.
Your purchase also comes with lifetime upgrades (Chris' lifetime, not yours…)
With the flexibility to use Thesis as a blog or a landing page template, what's not to like?