I typically for the simplest approach when it comes to using web services. If a browser interface is available, I prefer to use that over download and installing an external program – I already have enough "stuff" on my computer.
If you are a Twitter user, you might want to take a close look at TweetDeck, especially with their recent feature upgrade.
Having gone through a couple of other Twitter clients (they essentially bring Twitter updates to your desktop via the API and provide additional functions) like Twhirl, I will be using TweetDeck for a long time.
For starters, with the recent v0.21.5b upgrade, the client includes the option of a 4th column, you're also able to perform a search within TweetDeck and setup groups and follow friends more easily.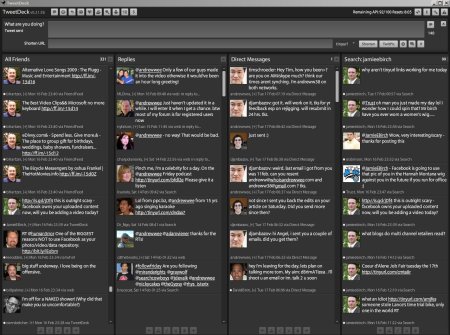 Unless you're a strict stickler to talking to 1 person at a time, the multi-threaded approach to managing conversations makes Twitter more managable, especially once you've breached the "100 people you are talking" to mark.
Here's one use of the search function: Being able to search by username or keyword and looking at the progression of the topic: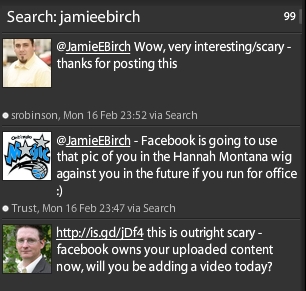 Take note that these functions are not groundbreaking or new, you could already follow these searches by opening up multiple windows and heading over to search.twitter.com and typing in keywords or usernames.
But what is useful is how TweetDeck makes these functions more accessible through icons, rather than bookmarked or type-in URLs.
-
Additionally as you build up a group of followers, you can sort them using the groups function.
Sam Harrelson has got about 4 groups set up now, and this is a good way to keep work and family separate (although your boss will still read your "had too much to drink, gonna call in sick" tweets in your public timeline.
To the veteran Twitter user, these changes aren't as much revolutionary as they make Twitter less of a pain in the butt to use.
For neophyte Twitter users, the simplication process can smoothen the learning curve.
I just wonder if Twitter users increasingly move towards client programs to access updates, rather than visit the site, does this change from a presence-based model (the idea of visit a "website" to get your site) to a "pulled content" model signal a change in the winds?
If you'd like to follow me on Twitter, you can follow me at: http://twitter.com/andrewwee