New podcast network Geekcast (owned by the Affiliate Summit) looks set to be a major player in the audio content game with the recent launch of two business-related podcasts.
A minor quibble I have about the Affiliate Summit is not being able to hear presentations by the event's co-founders Missy Ward and Shawn Collins because they're busy presenting awards or talking to folks during the 3-day event.
In launching and leading their own new podcasts on Geekcast, this should address the appetite to hear and benefit from their expertise.
-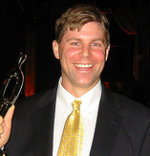 BrandMouthing, a new solo podcast by Shawn Collins, gives his take on branding strategies and marketing techniques that affiliates and internet marketers can employ in their own business. Usually featuring a 5-10 minute duration (the longest has been about 22 minutes thus far), the short, punchy format (with a high signal-to-noise ratio) gives immediate tips.
I've enjoyed Shawn's synopsis of the Cast of Geeks/GeekyBunch sessions when his Skype recording software failed to activate (resulting in a loss of about 1+ hour of content) and the BrandMouthing podcasts likewise provide a short burst of actionable information.
-
TheSpew, helmed by Missy Ward, is vaguely themed after popular women-themed talkshow "The View", with an affiliate marketing slant. Featuring prominent affiliate marketing/internet marketing veterans like Lisa Picarille, Connie Berg, Karen White, Lisa Riolo, Kim Rowley and featuring guests like Brian Littleton, Scott Jangro and others, the sessions are chock full of useful content, involving issues like the California affiliate tax, Missy's fundraising projects, insights into the affiliate industry.
Bundled together with this, you'll also hear about how several marketers got their start, get some insights into what makes them successful. TheSpew bunch have also thoughfully included snippets into managing a healthy work-life balancing, addressing issues like dating other members of the affiliate fraternity, networking at events and balancing parental duties with running your own internet business.
Although the sessions clock in at more than an hour, the time will probably fly by and I'll be saving the sessions to listen to again.
-
I've certainly got a healthy fill of content and will be looking forward to more episodes from Shawn and Missy.
You can check them out at:
Listen to the previous Friday Podcast where Missy and Shawn talked about their plans for Geekcast.