If you haven't already read Chris Anderson's seminal book "The Long Tail", you could be leaving a lot of business and income potential on the table, especially if you're an affiliate marketer.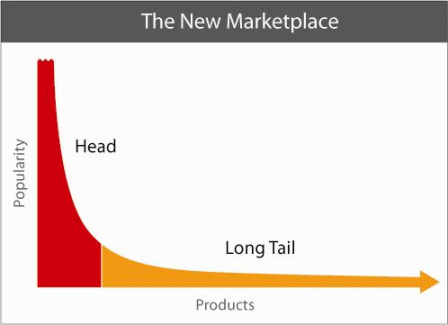 The premise in the long tail is that Pareto's principle (otherwise known as the 80:20 rule) has been skewed due to the variety of choice in the marketplace.
In an interview with the CEO of "digital jukebox" service provider Ecast, it's mentioned that of the top 10,000 albums available, the number of tracks that sold at least one track a quarter amounted to 98%. Due to the efficiency offered by the Internet, virtually all inventory stocked performs at a high level.
Additionally brick-and-mortar retailers like your Targets and Wal-Marts probably stock an average of 20,000 and 50,000 of the top CDs, DVDs and other merchandise, which comprises the bulk of their transactions. This is known as the "head" of the tapering tail graph (also known as the best seller effect).
In contrast, the "long tail" or potentially 97% of all selections outside the bestsellers (the orange sector in the graph above) can account for 50% of your total potential revenue.
What're the implication on internet marketing and affiliate marketing? If you've ever created content optimized for 4 or 5 keyword phrase for an SEO or bid on such a phrase for a PPC campaign, you've harvested long tail traffic.
The "high competition" keyword phrases like "payday loan" and "webhosting" are in the "head". Unless you have major resources and capital to fight the merchant or the top affiliates head-on, it can be a losing proposition.
Long Tail's author Chris lists 9 recommendations for leveraging on the long tail which will give you an advantage in growing your business:
#1: More inventory in, or way out
One of the constraints in affiliate marketing are the fixed costs associated with physical products (manufacturing, stocking, shipping) which leads to the single digit affiliate commissions you'd typically see (sometimes at 2% of the sale value or lower).
With "virtual inventory" fast becoming a trend that's here to stay – think Kindle ebooks, software downloads, screensavers – as an alternate product (with fatter margins) as a way of  growing your bottomline.
The ultimate margin grower in areas such as lead generation/CPA marketing, where you're selling a name/email address to a merchant might be the ultimate "virtual inventory".
For a list of affiliate networks, check out my affiliate network review.
-
#2: Let customers do the work
Sites like Wikipedia, Craigslist, MySpace boasted content numbering in the millions of pages, primarily through the efforts of its community.Their users willingly create postings, write articles, compose playlists, post pictures – generally activities which the search engines like.
Leveraging on visitors to your site whether as blog readers, forum members, article submitters with the ability to publish their content on your site enables you to fatten up your site in terms of content to create a better Google-compliant "user experience".
-
#3: One distribution method doesn't fit all
Again, choice is king. Some like to shop in stores, some buy online.
Long tail markets aren't constrained by time, space, geography.
Although sitting in your home office in Cleveland, Ohio, it's easy to set all your campaigns to a US and/or Canada default, with the timezone set at EST.
However, with the US, Canada markets becoming more saturated as the affiliate industry in general matures. You might be focusing on the "head" of traffic generation.
What about the long tail? Expanding offer distribution to markets like Latin America, Europe, Asia could fuel the next stage of growth for affiliate marketing.
Likewise, affiliates who pooh-pooh offline media for lead generation might do so at their own risk. Online advertising still only accounts for 10% of the total advertising market. There's a whole world out there in the brick-and-mortar world for media buys and customer acquisition.
-
#4: One product doesn't fit all
Most consumers will not be happy with just 5 network TV channels in their local area. Having choice gives consumers perceptual freedom, even if they're buying the same flavor of spaghetti sauce every week from the choice of 50 on the shelf.
Hands up those of you who walk into a Baskin Robbins and choose from the same 2-3 flavors from the 31 available every time? Point proved.
Although you may have developed a killer promotion method for your campaigns and use it almost exclusively. Consider going outside of your "head" for a moment.
Adopting a long tail approach to your campaigns – adding a mix of different strategies to your promotion mix – pre-sells, reviews (which are a form of choice), blogs, even direct linking – can give your campaigns more vitality than just focusing on one method alone.
-
#5: One price doesn't fit all
50% of sales on eBay are completed using the auction format, another 50% via the "Buy It Now" feature.
Likewise, coupons and promotions can create a range of prices for affiliates to determine their optimal price/profit ratio.
CPA offers are now incorporating "coupon codes" as part of their creatives. Does it work? Conversions are going up from what I'm hearing.
If you're sharp, you'll notice that some merchants are going one step further to offer their products at different price points for affiliates. This selection gives marketers to optimize their profit/conversion ratios.
-
#6: Share information
Being able to sort by price, reviews, popularity, sales is one way to provide choice to consumers when it comes to making their purchases.
Being able to harvest buyer behavior and demographics via analytics and data mining tools can give you the edge to better target leads…and convert them into customers. The data can be invaluable. But only if you analysis it for trends and sort out the head from the long tail and target these segments appropriately.
-
#7: Think "and", not "or"
Zero sum thinking assumes that a consumer will buy one product from a variety of choices. The reality is that most will likely buy multiple products from the same niche, on the basis of different benefits, bonuses and promotions.
Conventional affiliate thinking (maybe 90% or more of affiliates) is that someone will take up an offer, buy something or request something and go away, never to be heard from again.
What if you "long tail" it – with the expectation that someone who wants to lose weight will want to try multiple products and go on different diets?
Planning your campaigns with the expectation that prospects will make multiple purchases instead of just a single purchase will change the way you include elements such as emailing/collecting opt-ins in your promotion.
-
#8: Trust the market to do your job
Attempting to forecast market demand and trends based on a gut feel is a poor way to run your business.
Even the best stock market analysts are right slightly more than 50% of the time (when you do retroactive analysis over a statistically significant period of time…)
With the availability of testing methods such as adwords which lets you test an offer within 15 minutes, you significantly shorten the weeks it would take to test a direct mail campaign. If the adwords trial works, then scale it up. Else nix it and test something else.
Making judgments based on market data, instead of selecting "hot" offers or whatever some friend recommended you try out will give your business more stability and solid ground to move forward.
-
#9: Understand the power of free
With the number of choices available, the concept of a free trial allows consumers to try before they buy.
Although "free" has garnered a bad rep, especially in the ringtone industry, it's still got a lot of life in it.
From a business perspective, trials are a low-cost lead generation method, compared to the financing required for other types of marketing.
Assuming your product is of decent quality, a consumer who has the product in front of himself or herself can try it and sell themselves on your product. The consumer seals the deal for you.
-
For more information, check out: