Terrible domain name aside, Technorati, one of the benchmark of blogging success, looks like it's attempting to crawl back into relevance with the launch of a new service aimed to bridge the worlds of blogging and Twitter.
The new site, Twittorati, looks like a mashup of twitter updates from top Technorati users. The site looks like quite a mess, and with most Internet users looking at twitter updates via clients like TwitterFall, TweetDeck or the web interface, is going to a third-party site relevant to the process?
Affiliate marketers can benefit from some of the trend information the site offers, especially if they're keen practitioners of demographic profiling.
Looking at some of the hot hashtags: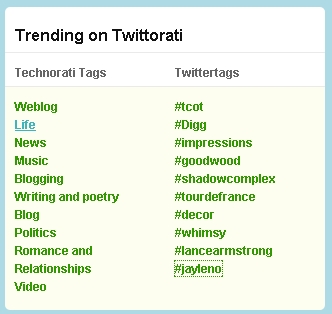 I'm a little surprised that #MichaelJackson isn't on that list.
However, topics like #TourDeFrance and #LanceArmstrong could give research opportunities if you're operating a health/nutrition/weight loss/fitness equipment affiliate site.
While #JayLeno has left the Tonight Show, he's also involved with his Jay Leno's Garage site, which could give you an opportunity to target car-related affiliate offers like auto insurance, purchasing new/used cars, auto accessories, etc.
-
To make this approach work, however, you need to spend some time figuring out what type of users are tweeting about these topics and more importantly, what would be a good offer fit to that profile (Contrary to what some believe, a $0.50 email/zip offer for a free xBox360 does not appeal to everybody…).