I was a little shocked a couple of weeks ago when I received a huge FedEx box in the mail. I'd been expecting some materials from my friend Jim Lillig, but this monster of a box arrived.
It was a bag of schwag from affiliate network Market Leverage. I thought it was pretty clever of them to suss out my mailing address from my domain whois info, and they're one of the few merchants and networks I've worked with who's taken the effort to courier a box of stuff all the way to Singapore (the shipment costs came up to about $70!).
Many networks and merchants use the tagline that customer service, relationship building is their priority (together with "highest payouts, most number of exclusive offers", etc), but Market Leverage delivers on its promise.
There was a fair bit of research to compile a list of affiliate bloggers and send them the care packages, together with the t-shirt campaign that the Market Leverage team had been doing – which shows how marketing and promotion ingenuity can bring you massive leverage.
Market Leverage's president Sal Guarino certainly has foresight in bringing Dina Riccobono and Debby Phillips (the woman formerly known as Debby Banning on board). Dina's clocked up video product experience working with Next Entertainment (which produced The Bachelor/The Bachelorette/Are You Hot?) and doubtless was instrumental in putting the concept together for the network's MarketLeverageTV broadcasts. Debby's pretty established in the blogosphere and her relationships and social networking will help build up the buzz effect among the blogging community. (google around and you'll see a couple of "I wish I got a schwag bag" blog posts…).
One person who's happy with the care package I received is my daughter, Bianca.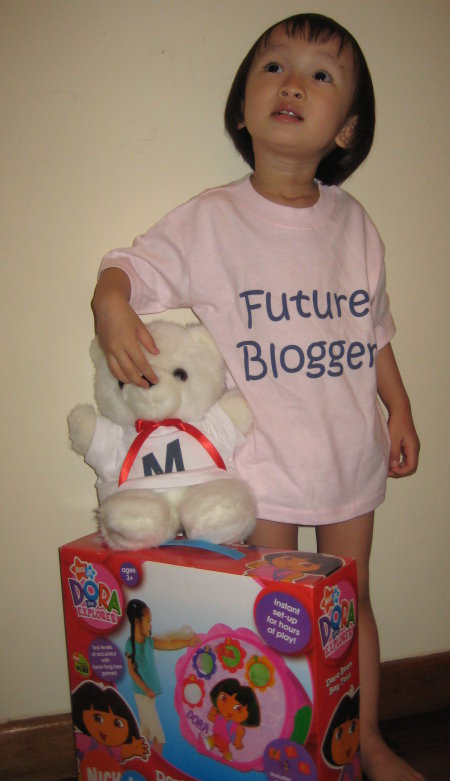 Although she's happy with the "Future Blogger" t-shirt, the Market Leverage teddy bear and the Dora the Explorer game for now, I believe she's eyeing the Flip Ultra which also came in the care package.
-
Looking a little deeper in the Market Leverage offers available, I was particular keen on the exclusive offers which have a payout of $20 – $50 per lead or per sale – an area I typically focus on.
If you're more focused on the zip/email submits with payouts ranging in the $1.20 – $2 range, there're a number to choose from.
I've also had an opportunity to talk with my affiliate manager Erick Bright and it was encouraging to hear that similar to other top-tier networks, Market Leverage affiliate managers are contactable via IM, will give offer suggestions as you're constructing your affiliate sites, and provide support as you're launching new campaigns.
Check out: