I've been looking into this issue for some time, and noticed some trends in the results Google shows.
For "Andrew Wee" from a Singapore IP, here's the result:

But if I do the same search using a US IP: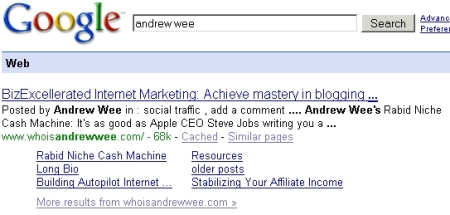 Spot the difference?
The expanded listing you see above are what Google calls "Sitelinks"
Some have said sitelinks could be an indicator of your site's status as an authority site in Google's eyes.
If that's true, it makes sense, because about 70-80% of my traffic comes from the US, while about 10% comes from Singapore.
So traffic weightage plays a part in the display of sitelinks.
Back in her Google Webmaster Central days, Vanessa Fox notes that the sitelinks are generated according to an algorithm.
Another finding seems to be that Google is serving up different results depending on your geographic origin. If you're a major US player, the display of sitelinks might not hold for someone coming from Japan or the UK.
Some interesting food for thought in your site planning efforts.