ok, the unthinkable has happened.
in singapore there is a phenomenon where parents do crazy things to get their kids to school, even to the extent of submitting their resumes to the school in hopes of getting picked…to volunteer of all things, to do free stuff to benefit the school.
so you have high power criminal lawyers going down to primary schools to give talks about the law.
I mean, isn't this an abuse of the schools authority?
here's the sad part.
i've become one of those parents who is willing to do crazy things to get his kid into a good school.
Since my daughter, bianca, was born, i've been thinking through various options to get her into a good school.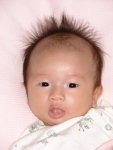 should i go with my goal to become a high power internet entrepreneur, hopefully dazzle the school's administration and get her in on celebrity?
should i enroll her in classes, get her on the math olympiad team, beat everyone else in the asia-pacific and get her in that way? or should i, should i….. darn, there are so many options, so little time.
just as i was about to do something silly, my wife tells me she's called her alma mater and our daughter qualifies for priority entry into Henry Park Primary School (one of the premier grade schools in Singapore).
Now to figure out how to get those letters out of the mailbox before the mailman comes for the pickup..