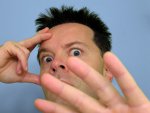 Stress is a concept that's frankly stressful to most people.
The dictionary defines it as a "mentally or emotionally disruptive or upsetting condition occurring in response to adverse external influences and capable of affecting physical health, usually characterized by increased heart rate, a rise in blood pressure, muscular tension, irritability, and depression." (reference.com).
Stress might cause your blood pressure to rise, lower the oxygen supply to your brain, kill off more neurons than usual.
Stress CAN shorten your life. In extreme cases, Stress may bring on a heart attack and kill you.
During the recent world cup, some Brazil fans were so stressed their teams lost they had heart attacks.
In fact, some fans died from stress-related heart attacks when their teams lost.
To die because of a sport is especially taxing for the family who will inevitably also be stressed by having to make the funeral arrangements.Is all stress bad?
The psychologists and doctors are in agreement that distress (the 'bad' form of stress) is bad for you. On a prolonged basis, distress could bring about health-related conditions and put unnecessary stress on the heart.
As far as possible, it's best to reduce the amount of unnecessary stress in one's life.
Practise deep breathing, do creative visualization, anything to destress oneself from the rigors of our stressful lifestyle.
BUT on the other hand, is a stress-free life desirable.
Should we aim to isolate ourselves from any stressors (factors which bring about stress)?
Even if we were to live in a cave in the mountains, it might not necessarily mean a stress-free existence.
For one, there could be bears in the area, disease and illness could be more rampant there and not to mention the stress of not having a doctor around. And no Internet!
There is a silver lining to the stress storm cloud.
Eustress.
Eustress is the 'good' form of stress.
Coming from the Greek 'eu' meaning good or well, the good form of stress motivates us during moments when we are stressed.
Occasions where we face a massive challenge, yet come out ahead are when eustress manifest itself. Some of these eustress moments could be winning or achieving first place in a competition, finally earning that well-deserved promotion, proposing to the love of your life and having the other person accept your proposal. These are all examples of 'good' stress.
Can we create situations of eustress?
Definitely, by having clearly defined goals, and a well-thought out set of strategies to achieve our goals, we might feel some stress, however, it's likely to be eustress, accompanied by a healthy dose of confidence that we'll achieve our goals.
After all, a stress-free lifestyle might seem like a nirvana, however, it could turn out to be a bland personal hell.
Pick the challenging route, it might be more stressful, but the saying holds that whatever doesn't kill us, only makes us stronger.
Embrace stress, you'll be the better for it.