Longtime blog readers will recognize Austin, TX-based Laura Alter as the co-owner of laptop forum NotebookForums and might recall the launch of her blog last year.
Recently, Laura has been more proactive moving from the forum management/marketing side of things to becoming a SEO evangelist of sorts.
She recently organized an Austin SEM meetup, with a presentation on local search (aka geotargeted search engine optimization).
Optimizing your website for local traffic, especially if you're mainly a geographically-fixed business like a hair salon or ice cream parlor can pay off with big dividends regardless of whether you go down the free search engine optimization route or the paid search route.
A number of factors work in your favor:
Highly relevant and targeted traffic since the campaigns specially target consumers with specific needs
Generally lower bids, as the pool of advertisers is smaller (even in a metropolitan area like New York City or Los Angeles – it's a more viable prospect compared to facing bidders all over the world)
Higher conversion ratios
Ease-of-followup and greater opportunities to build a continuing relationship (especially if you employ email marketing and/or direct mail in your customer relationship management efforts)
Obviously SEM/SEO is not going to be your end point, it's merely going to be your start point to generate leads. Building the relationship and establishing trust, credibility, asking for the sale and asking for the repeat sale are going to be the bedrock of your business building efforts.
For the local SEO side, here're some slides from Laura's presentation:
3 formats for localized SERP (search engine results page) display:
10 Pack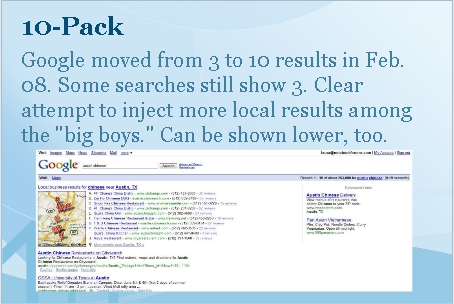 Authoritative OneBox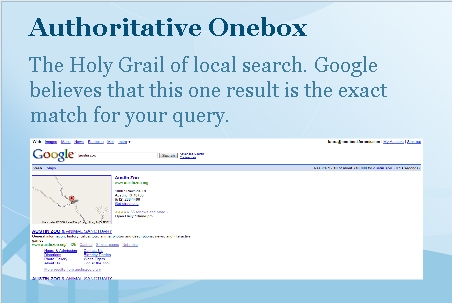 Integrated Map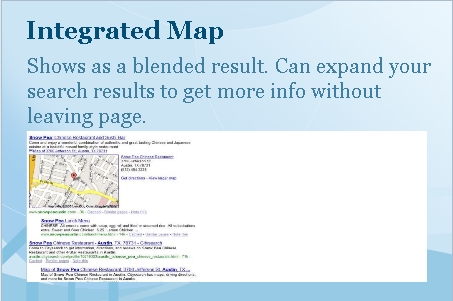 I remember getting a set of highly relevant local results when looking for a shooting range near the hotel where Affiliate Summit West was held in Las Vegas earlier this year. The localized search result with map and local landmarks give a much better user experience. If I had more time, I probably would've headed over to the range.
You can check out Laura's local search slide presentation and writeup.
If you're located near Austin TX, you might also like to sign up for Laura's Austin SEM group.