Affiliate Summit co-founder Shawn Collins has got the pictures from the professional photographer from the recent Affiliate Summit West in Las Vegas last month (all 630 of them) and has mentioned them on the Affiliate Summit blog. You can check out the Affiliate Summit West Flickr photostream.
Here're some of my favourites:
With the ShareResult affiliate network affiliate manager Julia Steat at the Great Affiliate Road Rally
With Notebook Forums' Laura Alter (yes, she is 6′ and wearing heels…)
After talking to him for about a year, I finally got to meet B5 blog network's training manager Tris Hussey
At the social media session with Justine Ezarik and Tris Hussey
Zac Johnson and Amit Mehta at the Super Affiliate session
At the "Engaging the Media" panel session with Lisa Picarille, Anik Singal, Valerie Stevens and Jim Kukral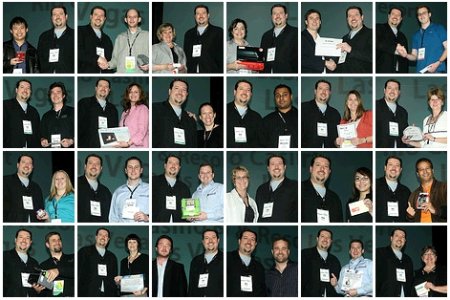 I don't know about you, but I think Jim Kukral deserves some type of award for being the most photographed!
Be sure to check out the other pictures at the ASW photo collection.
Affiliate Summit as always was a blast (I still have about 500 of my own pictures to put up somewhere…).
If you're keen to bring your affiliate business to the next level, be sure to check out Affiliate Summit East from Aug 10-12 in Boston, MA.