Independent blog InsiderFacebook has recently mentioned that Facebook users have topped 140 million, up from an earlier 130 million at the start of the month.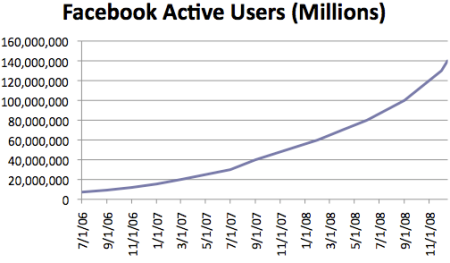 With an estimated 700,000 new users joining the social network each day in recent weeks, it appears that Facebook has achieved critical mass.
Raw numbers don't tell the entire picture though.
Anecdotal evidence from affiliates suggests that the FB Ad review team are working doubly hard to slap down new ad campaigns in response to user complaints. In particular a common refrain is that new campaigns which are similar to existing campaigns are being rejected.
This is happening while older ads which seem to violate the current (some say arbitrary) rules that the ad review team has set down, are free to run. So there's a double standard being applied, with some affiliates resubmitting their rejected ads over and over again in hopes that a more lenient reviewer will approve the ads.
One interesting fact from the InsideFacebook piece is that more than 70% of the new Facebook traffic coming on-stream is happening outside the United States.
This means that savvy affiliates would have planned, if not scaled up the frequency and intensity of their Canada, Australia, United Kingdom and New Zealand campaigns. Since there's no sense trying to fight against the flood of complaints against dating ads and acaiberry ads from US FB users, why not move to greener pastures?
At some point, Facebook will have a day of reckoning, especially since there isn't a significant amount of mainstream brick-and-mortar advertisers who recognize and take action on this new platform. Until that happens, Facebook will ultimately rely on affiliates to boost its ad revenues.