According to a recent research report, social media users appear to have segmented themselves primarily along demographic criteria. Additionally, as social media channels grow in sophistication, it appears that the sheer amount of information flowing through these channels may be exerting a hefty time and psychological cost on users.
In a recent Pew Internet & American Life Project report, internet users in the 18-53 year old age bracket (as at 2009) represent a higher proportion of internet users, compared to their numerical percentage in the general population.
"Older boomers" aged 54-63, make up 13% of the general population and are on par, constituing 13% of internet users.
The "Silent generation" aged 64-72, who make up 9% of the general population, amount to 7% of internet users.
The "GI generation" aged 73 and older and are 9% of the population, only represent 4% of internet users.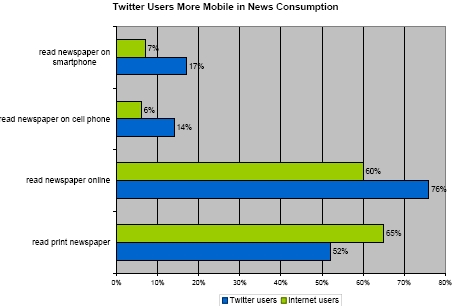 Likewise, when it comes to media consumption, Twitter users tend to be more savvy with a high proportion reading their newspapers online or on cell phones or smart phones.
Unsurprisingly, internet users who don't use Twitter are more likely to read print newspapers.
Attempting to demographically target older internet users might have see better efficiency through old guard media, while Twitter is an ideal medium, especially for the 18-53 year old demographic.
Likewise, similar consumption patterns are seen when it comes to accessing blogs and video news.
However, a group of "ambivalent networkers" are emerging from these groups – internet users who are otherwise savvy about using mobile devices and social networks, but conflicted about being connected 24-7.
"Social media fatigue" could be a by-effect of the volume of 1-on-1 communication that social media affords and having blackberry-like continuous communication coming through multiple social networks can be overwhelming. With the possible outcome of some otherwise net-savvy users going "off the grid" and going "social network" cold turkey.
If you're like me, you might've given up on going to sites like MySpace, Facebook or even Twitter as frequently, with the hundreds of pending friend requests or a bursting inbox, creating a stressful, rather than pleasant social experience.
One possible solution: social network-focused meta search engines and more intelligent filtering technologies.
Else, there's the very possible outcome of social networking devolving into the online equivalent of satellite TV's "1,000 channels, but nothing to watch" syndrome.