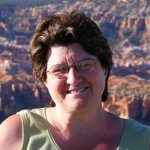 When I first started reading Haiko De Poel's ABestWeb affiliate marketing forum, one of the things that mystified me was this lady who said she was going around giving people Loxly hugs at Affiliate Summit.
It's no surprise that Deborah Carney AKA Loxly has built up significant goodwill through her journey as an affiliate, affiliate manager and currently, affiliate outsourced program manager (OPM).
Loxly is one of my secret resources and I find myself consulting her on business building and marketing strategies. The fact that she posts prodigiously on ABW and is available nearly 24-7 on Skype says a lot about her commitment and work ethic to the affiliate industry.
Besides catching her session at the recent Affiliate Summit West 08 in Vegas at the ABW panel discussion, you can also tune into the latest edition of the Friday Podcast where we discussed:
Affiliate strategies for new affiliates
How and when merchants should evaluate and engage outsourced (affiliate) program managers
The content management system of choice for affiliates
Liberally sprinkled with Loxly wisdom.
Be sure to also check out:
Check out the Friday Podcast or download it for listening later:
Friday Podcast: Deborah Carney AKA Loxly
[ 1:00:16 ]
Play Now
|
Play in Popup
|
Download
(696)