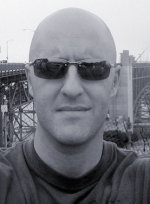 Brian Garnder is known as the creator of the popular WordPress theme, Revolution.
In a recent blog post, he mentioned that Revolution arose out of a site design which had been rejected by a real estate client.
Good thing too, because it's gone on to be one of the most popular magazine-style WordPress templates.
I invited Brian on to the Friday Podcast and we talked about:
How he got started in online marketing 2 years ago
Balancing blog design and blog usability to build user stickiness
How you can test out new templates on your blog before you go live with them
Tips on becoming more efficient with your blog
Shifting his business model from a paid premium blog template now to an open source business model in November
Check out the podcast below:
Friday Podcast: Brian Gardner
[ 27:23 ]
Play Now
|
Play in Popup
|
Download
(2854)
Be sure to check out:
Important note: The Revolution themes will only be available till Oct 31st, so you should get them before they're taken off the market.