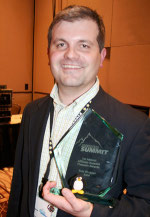 This week I got the recently nominated "Minister for Social Media" (yes, he drinks beer and curses…sorry, Jangro) Sam Harrelson on skype, and we chatted about the social media scene.
It's the "thin client" computing discussion which Sam was refering to at the tailend of Geekcast Episode 13. (you knowyou've been listening to a lot of Geekcasts, when you're typing "http://geekcast.fm/archives/category/geekcast/" into the browser address bar – bookmarks are overrated anyway…)
Besides having Sam do a rundown on his myriad of blogs/websites, we also talked about sci-fi, his new startup Big Idea Agency (the site design seems to change every couple of days, and viewing the page source sometimes shows some weird/arcane trivia).
Yes, there's lots of social goodness ahead (together with a definition of "cloud computing").
Check out the Friday Podcast below:
Friday Podcast: Sam Harrelson
Play Now
|
Play in Popup
|
Download
(274)
31.5 MB | 1 Hour 16 Mins