I've discovered a major problem that plagues Tweetdeck users who use the free Twitter client to access and post microblogging updates. TweetDeck is bugged by a fairly major issue which will require a solution pretty soon.
Background: I'm an active Twitter user and have been using what I would consider the best Twitter client, TweetDeck, for a couple of months.
Sure it's had some weird idiosyncrasies like having to shut it down so I could run more bandwidth-intensive applications or MMPOGs on my system, but on the whole, it's been a pleasant experience (read my earlier review)
I may or may not be the typical Tweetdeck user – here're my usage habits:
My computers are on 24-7. I run mainly Windows XP operating systems (a combination of Professional and Home editions). I reboot when virtual memory drops "dangerously low" or I get a BSOD (blue screen of death).
I follow about 200+ Twitter users, some of whom tweet as many as 50 times a day or more.
I live in a GMT+8 timezone (which is 13 hours ahead of EST now. My night is your day. I'm snoozing while you're working)
As a result, it's not uncommon to wake up to 500+ tweets during the 6 hours I'm sleeping.
Particularly today, my machine crawled to a grinding crawl, and pulling up the Windows Task Manager (hit alt-ctrl-delete to see this):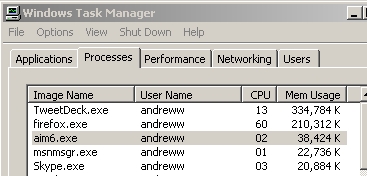 Coming in at #1, TweetDeck with a pretty monstrous 334 MB of memory usage (followed by Firefox where I had about 30 tabs open).
And a screenshot a few minutes later:

So I've had to shut TweetDeck down, as almost every other application was pretty unusable.
Dave Davis AKA RedFly mentioned that TweetDeck's memory leak issue had been Dugg (the orig post has since been removed) though I found another blog post mentioning the leak.
There's speculation that the Adobe AIR runtime is responsible for the memory leak. Others are saying TweetDeck is the culprit.
With some probing, I saw mentions on the TweetDeck posterous/wall/blog or on TweetDeck founder/developer Iain Dodsworth's twitter stream.
In response to a user's complaint that TweetDeck had swallowed 1.4 GB of ram, Iain responded: "yep will fix ASAP – in meantime just restart app to release memory and go back to starting memory usage amount"
Iain has also mentioned incremental upgrades are on the way with a major release scheduled soon. Hopefully, Iain will kill the memory problem dead.
I still think TweetDeck is still the best fraking Twitter app out there, especially if you're following more than 50 twitter users. The memory leak issue should be addressed soon.
-
Update: If you leave TweetDeck on 24-7, it looks like you can keep a maximum of 500 backlogged/unread tweets, so there is a buffer for 500 tweets. As new ones come on, the old ones fall off your viewable page.
-