I've discovered a major problem that plagues Tweetdeck users who use the free Twitter client to access and post microblogging updates. TweetDeck is bugged by a fairly major issue which will require a solution pretty soon.
Background: I'm an active Twitter user and have been using what I would consider the best Twitter client, TweetDeck, for a couple of months.
Sure it's had some weird idiosyncrasies like having to shut it down so I could run more bandwidth-intensive applications or MMPOGs on my system, but on the whole, it's been a pleasant experience (read my earlier review)
I may or may not be the typical Tweetdeck user – here're my usage habits:
My computers are on 24-7. I run mainly Windows XP operating systems (a combination of Professional and Home editions). I reboot when virtual memory drops "dangerously low" or I get a BSOD (blue screen of death).
I follow about 200+ Twitter users, some of whom tweet as many as 50 times a day or more.
I live in a GMT+8 timezone (which is 13 hours ahead of EST now. My night is your day. I'm snoozing while you're working)
As a result, it's not uncommon to wake up to 500+ tweets during the 6 hours I'm sleeping.
Particularly today, my machine crawled to a grinding crawl, and pulling up the Windows Task Manager (hit alt-ctrl-delete to see this):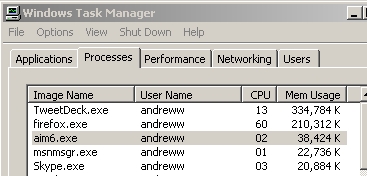 Coming in at #1, TweetDeck with a pretty monstrous 334 MB of memory usage (followed by Firefox where I had about 30 tabs open).
And a screenshot a few (more…)