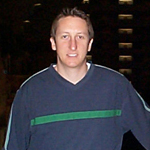 I met Chad Frederiksen (better known in affiliate marketing circles by his moniker "CDF Networks") at the Blue Man Group show at the Affiliate Summit in Las Vegas earlier this year, and he came across as a very down-to-earth guy.
Which is a little surprising, given how successful he is as a PPC affiliate.
If you haven't checked out his site yet, you might like to read his posts:
Doubtless his creativity and work ethic have played a part in feats like hitting the top 10 affiliates from CPA network Azoogle (now a division of Epic Advertising) 6 months after he started up his PPC -> affiliate campaigns.
His blog at CDFNetworks.com contains a treasure trove of PPC strategies, tips and case studies.
Since he already blogs in great detail about his tactics, I wanted to get a better idea of how his business system operates.
During our discussion, we covered:
How you can get started as a PPC affiliate
How Chad approaches his marketing campaigns, including a number of key techniques
Chad's recommendation on learning resources, especially if you're a new affiliate
Evaluation criteria on deciding which affiliate offer to promote
How you can increase earnings from your PPC efforts
How and why building destination sites will help grow your business
Check out the podcast below:
Friday Podcast: Chad Frederiksen
[ 36:04 ]
Play Now
|
Play in Popup
|
Download
(1440)