Although I've a pretty nice compact Fujitsu Lifebook ultraportable (not nearly as small as an Asus eee PC, but much more powerful), I've accumulated quite a bit of "digital clutter" on it over the past 2 years that I've owned it.
Digital clutter occurs when software is installed on a computer, then uninstalled, frequently leaving bits of code in the bootup sequence, or staying resident in the applications or device drivers loaded in RAM.
Another instance of digital clutter occurs when 2 conflicting device drivers or DLL files clash, with the result that the computer either hangs or reboots itself…
I found myself in the dilemma that the Google AdWords Editor didn't work anymore, Firefox would suddenly hang every 15 minutes or so, and Internet Explorer hasn't worked for the last year…
Over the past weekend, I did pretty major housecleaning and everything works like new now.
IE is speedy, so is Firefox, I've also downloaded the latest versions of the software I'd been using before and was pretty impressive by how much faster the new versions run and the number of new features.
In the process of upgrading however, I lost a couple hundred megabytes of email from Outlook Express. I guess I had hit one of these limits. I have folders within folders, and probably busted the 100,000 email or so limit…As a result, I've got my folders starting with "H" all the way to "Z", but I've lost my folders from "A" to "G".
If there ever was an occasion for a fresh start, I guess this would be it.
One useful tool was a registry cleaner I used, which helped to clean a lot of digital junk from my system.
It's the first time I've used ParetoLogic's RegCure product and if you aren't already using it yet, you should test out the trial version.
Here's what my scan and cleanup showed: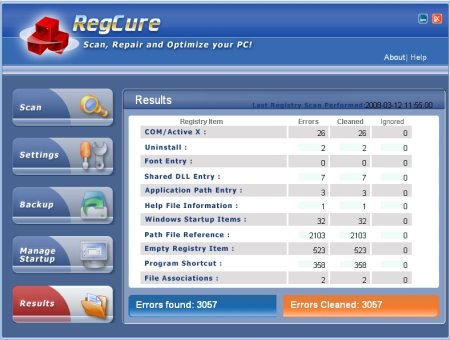 That's right, 3,057 errors were found and cleaned…
My system runs much faster now, especially (more…)