One of the affiliate marketing professionals I constantly look forward to talking to is Heather Paulson, founder of internet marketing/affiliate management agency Paulson Management Group. She's simultaneously one of the most pleasant and knowledgeable people in the industry.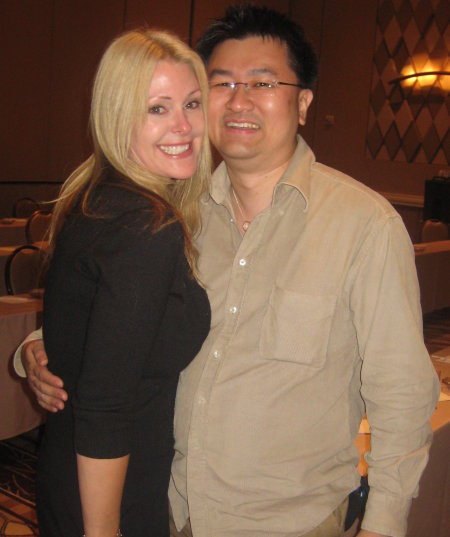 Heather Paulson
Affiliates are constantly bombarded with the "highest payouts, best offers" line that too many affiliate managers fall into using whether out of habit, laziness or a combination of both.
So it's a breath of fresh air to get useful information to enhance my network of sites from Heather at the sidelines of the recent Affiliate Summit West 2009.
Here're some hallmarks of a successful affiliate recruitment and management campaign:
Step 1: Get to know the affiliate – Paradoxically for some managers, the first step should not be an email from the contact me page, with the opening line "Would you like to make thousands of dollars a month from our highly optimized and proven affiliate offers?". Wait a minute, I don't recognize your name nor the merchant. Most of all, your product or service isn't even one that I'm in. You've just wasted your time in mailing me and my time in skimming over and deleting your email.
Step 2: Do your homework – Unless you have a stealth/underground affiliate on your hands, everyone leaves virtual "footprints" whether it's through their blog, forum participation or social network profile. Even if they don't have any of these, you can still recce the affiliate IRC channels or platforms like twitter, or even hearsay from other affiliates. During my past life as a journalist, I was able to sniff out the dotcoms teetering on the edge of collapse by keeping my ear to the ground. I didn't have tools from the likes of Syntrx to aid in my research.
Step 3: Engage the affiliates: Building friendships with affiliate is not mandatory, but it will go a long way in creating a long term business relationship. Most of us are more willing to stick up for and help a friend, rather than an "associate". I haven't had a need for this yet, but I have heard some affiliates even approach their affiliate manager for dating or relationship advice (maybe a consequence of too much time working on your campaigns and ignoring your significant other?).
Step 4: Equip your affiliates with the right tools: A number of forward thinking networks and agencies have in-house creatives teams which create custom graphics, landing pages for their affiliates. Some even offer the use of high end multivariate testing tools to their affiliates during the affiliate's campaign optimization efforts. I mentioned in a recent interview that affiliate marketing has matured a great deal since it's inception in the 1990s, and affiliate managers need to engage affiliates because at the end of the day, it's going to be a win-win relationship all around.