One of the standout sessions from Affiliate Summit West 2008 was the video marketing panel comprising AskTheBuilder's Tim Carter, Wine Library TV's Gary Vaynerchuk, Metacafe's Brian McCarthy and Buy.com's Melissa Salas moderating.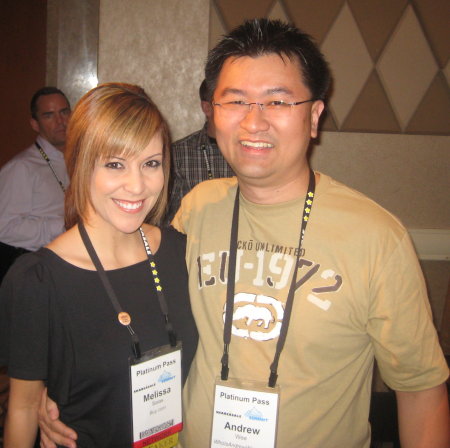 Buy.com's director of affiliate marketing Melissa Salas
This year's session similarly featured a panel of experienced marketers and service providers using video as one of their key strategies, they included Buy.com's Melissa Salas, Qoof's Jonathan Stefansky, Market Leverage CEO Michael Jenkins and Marty Fawnkey moderating.
-
From the affiliate perspective, video and podcasts continue to be an underused media for content on landing pages, sales pages. The fact that 90% of affiliates don't use them means that embedding audio or video content will make your pages more unique to leads. And it is simpler than it looks.
Gary Vanerchuk who delivered the Affiliate Summit keynote address had this as one of the major takeaways – when it comes to marketing yourself or your brand – be authentic (especially applicable to video). If you knock over a wineglass during your video presentation, so be it. Holding yourself up to broadcast TV or satelitte TV standard can and will be a frustrating experience.
On the other hand, staging videos and being found out can put a serious dent to your credibility.
Rich media like audio and video is probably best served in small chunks, especially in 2-3 minute pieces as mentioned by Melissa Salas, from extensive testing on Buy.tv.
Additionally, affiliates can leverage on tools from the likes of Qoof and ToldYa! which Buy.com is working with to embed affiliate links within Buy.com videos that they re-publish on their websites.
Additionally, I'd suggest looking at solutions like BubblePly which works with major video networks and posts an overlay over your videos and lets you embed affiliate links within the video.
Here's an example of a video that Shawn Collins created for ASW07:

Similarly, affiliate network
Market Leverage
has gone down a similar route with it's
MLTV
weekly broadcast, viewers can access a Tivo-like interface to access segments like "Where's ML", rather than drag their mouse randomly across the program timeline.
-
In my view, some of the issues for affiliates leveraging video will be:
Interesting content: being able to brainstorm and come up with interesting content on a consistent basis like iJustine or Lisa Nova will require a conscious effort to "think video" as a key part of your strategy, rather than something you just tack on.
Intuitive design and concept: Successful video often focus more on the entertain aspect, more than the teach or sell angle. I bet many viewers tune in to GaryV to see what he's going to do next, the wine appreciation naturally develops as you watch more episodes.
Caution: Some effort involved: While text blogging and content creation require little effort, an effective video strategy will require some effort in storyboarding, setting up the set, shooting the video and post production. On the other hand, if you're one of a handful of marketers in the space and using it effectively, you have a headstart on the rest of the pack.
Johnathan Stefansky had some great tips from his "Ask the Experts" session on using video effectively. Some points:
Shelf life: A video which remains popular a year later can be considered to have an exceptional shelf life.
Call to Action: if you don't have one in the video, you're merely being entertaining
Limited analytics for video: Still fairly limited and restricted to mainly hot zones, data like geo location, time stamping, etc are fairly limited.
Positioning: Video location "above the fold" will have a higher response rate, compared to below the fold
Get to the message quickly: In a split test for wedding favor videos, a direct "zoom-in, zoom-out", voiceover, information packed video, outperformed a QVC style walkthrough 7-minute long video. Take the audience into consideration – the average viewer was a wedding favor buyer who viewed 6-7 videos before making a decision, so getting to the point was important in this case.
The video indexing black hole: Flash technology (the majority of web video is encoded in this format) is a black hole to Google and is difficult to get it indexed effectively. Meta data like video titles, descriptions and tags are important when labelling your video.
The CDN factor: The Content Delivery Network (CDN) that your video is delivered across does affect the user experience. Akami seems to lead the field when it comes to video streaming
For more video strategies, check out: Friday Podcast: Video Strategies With Melissa Salas