If you were in Singapore and you didn't make it to Internet Money Secrets yesterday, boy, did you miss out!
It was a great session with Stuart sharing Search Engine Optimization strategies and Internet Marketing newbies would get a whole bunch of strategies on optimizing and generating traffic for your site. But more on Stuart later.
I was really looking forward to Kelvin Hui's presentation and he sure overdelivered!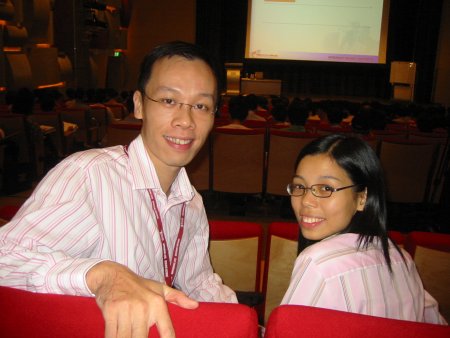 Ambatch.com's Kelvin Hui and Piano Chen
Kelvin gave details of his Ambatch.com community publishing project.
Can you imagine a site which is:
Ranked 217 in the Alexa ranking
Generating 300,000 visitors a day
Generating an obscene of adsense revenue on a monthly basis
I can't either. And the community project hasn't been up all that long (only about August!)
You can visit Kelvin's blog here: Gathering in Singapore
Here's a great quote from Kelvin:
Every project should be fun. If it's not funny, then don't do it.
If it's fun, then the fund will come along!
Definitely good advice to keep along and his new community project FriendEarth.com is making big strides too.
He's got an adsense revenue sharing model there and I think it's worth checking out.
By the way, I don't think it's fair to call it a 'sharing' model as you keep all adsense revenue generated.
So shouldn't you be headed over there now?
Next up was Super Affiliate Ewen Chia who emphasized the importance of doing up a business plan.
If you don't already have one for your blog or website, it could be a sign that you're not treating Internet Marketing as a business, but rather as a hobby.
This is not good.
It will affect your returns.
Super Affiliate Ewen Chia: mobbed!
I think Ewen deserved to be mobbed, especially after he showed the accounts for a number of his products all generating in excess of $10,000 a month.
PS: note that these are products that are truly passive. He hasn't touched them since product launch.
Both Jo Han and Ewen shared some product creation strategies which would probably cost you a couple of thousand in a coaching program.
I'm not sure if all the audience, especially the newer Internet Marketers caught it.
But I did.

Let's see how my results turn out.
Stay tuned.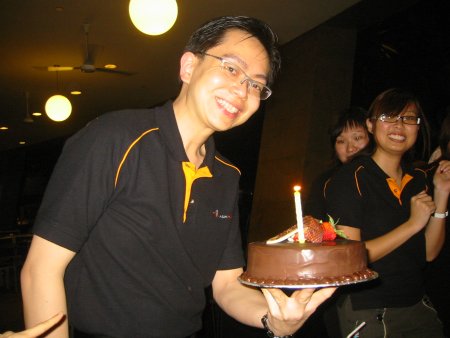 Stuart Tan: Birthday Boy
Yesterday was also Stuart's birthday and we had a great celebration after the end of a long and exciting first day.
Thanks for conceptualising a great event and I'm looking forward to day 2.
If you'd like to wish Stuart a slightly belated birthday, you can visit: Stuart Tan's Internet Marketing blog.