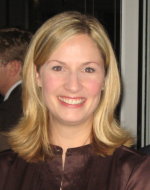 It's always a pleasure talking to affiliate marketing veteran Rachel Honoway who's one of the pioneers at affiliate marketing service agency Kowabunga (later acquired by Think Partnership), having started in 1997.
She's not only friendly, but highly knowledgeable about prevailing issues in the affiliate marketplace.
If you haven't yet, check out Partnercentric president Linda Woods' interview with Rachel on a recent episode of Affiliate Marketing Insider.
-
For this edition of the Friday Podcast, we discussed:
Challenges for affiliate managers, especially in keeping up with your affiliates
The chronic issues related to talented affiliate managers leaving for greener pastures and how networks can address this
Highlights from the recent AC Certified workshop
Why Syntryx might be the "killer app" for affiliate managers
The rise of the Web 2.0 social/community-based affiliate
Jim Kukral's role in the affiliate universe (with a pointer to the Daily Flip)
And lots of AC Certified goodness
Check out the Friday Podcast below:
Friday Podcast: AC Certified and Rachel Honoway
[ 1:04:41 ]
Play Now
|
Play in Popup
|
Download
(1238)
To find out more, visit: AC Certified