If you've read through the first part in this series "Affiliate Marketing Tips: The Industry and Getting Accepted", you're ready to look at the thousands of affiliate/CPA offers available and do your research on finding a winner.
"Everybody Knows" – Leonard Cohen
So everybody knows the high paying niches – payday loans, credit repair, weight loss, grant information, programs with a continuity/rebilling element to the customer (ie: the "Google" money making CPA offers). But just because you know an offer pays a larger upfront commission, doesn't mean that you'll be able to convert it into a winning campaign.
Just looking at the street (standard/baseline) payout doesn't give you an idea of how well it will do, unless you have the offer conversion data.
Most affiliate networks will list their top offers, like Market Leverage does within their affiliate interface:
Picking an offer based on the highest payout is probably one of the worst ways to pick an offer – because there're many more variables that affect the success of any campaign.
You might also look at the EPC (earnings per 100 clicks), which is in the form of a dollar value. Eg: $0.50 EPC or you might see $50 EPC. That means out of every 100 clicks sent to the offer, the average commission generated is the amount you see.
Take note though, these figures aggregate commissions generated across the network – you'll have earnings data from PPC marketers, emailers, SEO affiliates, social media affiliates aggregated into a single figure. To have EPC be more useful, you should ask your affiliate manager for the breakdown and look at the average EPC for the type of traffic you're generating.
As you're looking at different offers, you might like to shortlist at least 5 to 10 different offers to research.
-
Researching Your Niche
Although you might have a rough idea about what your niche is about (dating has something to do with people joining a dating service and the service provider pays you a commission for the lead), you should go a step further to look at the niches in greater detail.
Google News
One good place to start is Google News.
Google has an editorial review team that reviews news sources (including blogs) and includes them in the list of content providers for the Google News service. By checking out news coverage within the last 3 months (perferably within the last year), it'll give you a sense of how well the niche is doing, and if it's a niche with affiliate/CPA offers with a short lifespan, how long it's been in the marketplace.
-
Google Trends is a way to graphically see how the niche/offer has been performing over a period of time.
For example: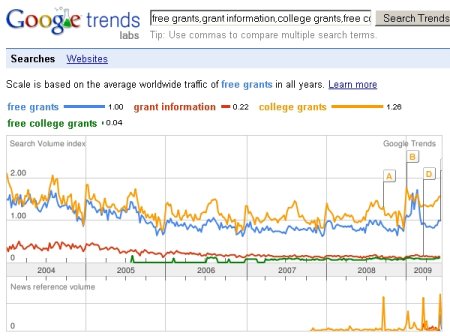 For a niche like college grants/grant information, the peaks for search volume tend to be at the start of the year, and just about the time the fall/autumn college term starts. This means that whether you're doing SEO, PPC, social media or other campaigns, your best opportunity is going to be at the start of the school term.
Next, looking at the historical trends from 2004 – 2009, the cycle seems pretty regular, so you can anticipate similar spikes and troughs both this year and every year after (barring any changes to the school system).
-
Likewise, as you're looking at the Google News results, take a look at the spikes in the periods where the news appears. So it's not just what the news is about, but when it comes out.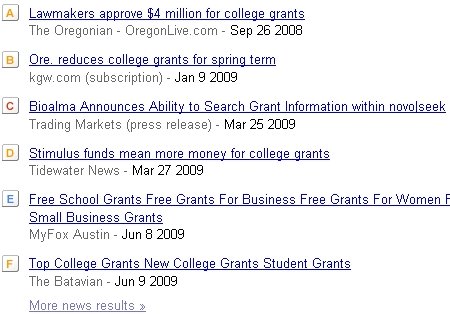 -
Another useful research tool is Google Insights which provides deeper information on the niche, together with demographic information (the age, sex, location and other personal factors). Here's a snapshot:
This gives you an opportunity to benchmark keywords and assess the search volume.
Note that "free college grant" and "free college grants" will have different levels of search volume, and longtail traffic such as "free college grant for NYU" will likely not get captured, but can convert much better than more general keyword traffic.
Geographically specific information can give you an idea of the hotspots for your offer:
Together with a heatmap graphical representation:
Because all the google tools are tightly integrated, you'll also see information from the Google External Keyword Suggestion tool clustered with the Trends and Insights information:
Clicking on the related keywords will bring up new keywords with which you can build your campaign.
-
The bottomline: Although you can choose to take offers off an affiliate network and start pumping traffic through an offer to see if it converts, I feel this approach is a pretty hit-and-miss tactic. Which is why you often hear how a highly successful campaign for one affiliate might be a total washout for another – even if they're both using the same form of traffic generation.
Exercising some due diligence before going full force into offer promotion can save you a bunch of time and money.
-
Are you a new or experienced affiliate? Check out the WhoIsAndrewWee.com Affiliate Challenge