Shawn Collins and Missy Ward have consistently put on a great Affiliate Summit since I first started going to them in 2006. This year was no different and if you're an affiliate, consultant or network, the show serves as a great opportunity to network and get a pulse on the trends in the industry.
It was worth the 20 hour plane ride each way, and despite the somewhat hefty tax expense, the benefits far outweighed the time and resources to get there.
This is a first in a series of posts, more to come.
-
Pre-Affiliate Summit
Getting to the summit is a good idea, especially with some flights being delayed and having a chance to do some chillaxing before the event. I did some shopping at the premium outlets outlet mall and met up that night with Kim Rowley and Jon Levine.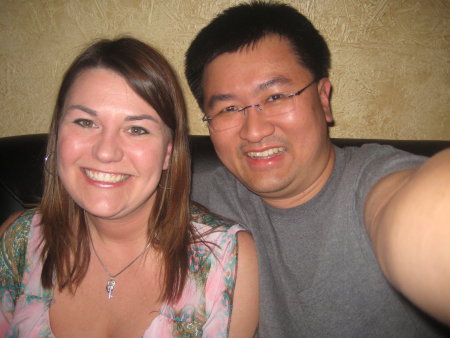 At most conferences and seminars, I usually learn more from talking to other affiliates about their sites and projects, compared to the formal sessions (unless it's a brand new area/topic for me).
So we went for drinks and it was interesting to hear about how the program that Jon is managing was put together.
-
Day 1: Sun 11 Jan
I was pleasantly suprised outside the conference rooms by Shawn Collins who danced a welcome jig: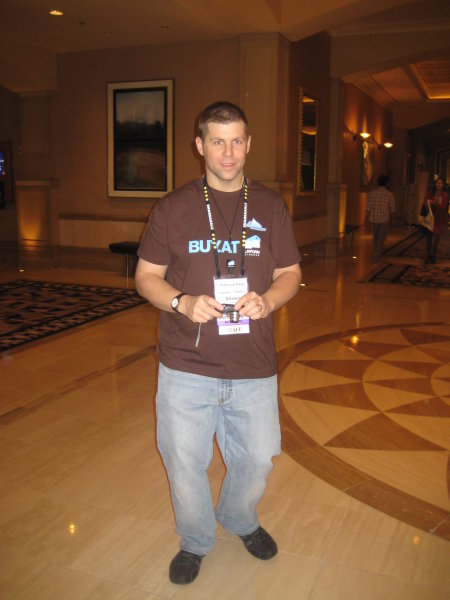 I'd post a video, but the group we were with was too ticked to fire up our flip cams.
-
And shortly after, pickup artist Mystery showed up with his entourage and soon a small crowd gathered around him: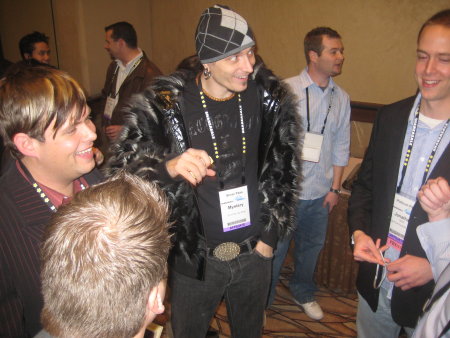 I had a chance to check out the "Mysteryplex" AKA "Project Hollywood" mentioned in Neil Strauss' bestseller "The Game" in Hollywood later in the week. (in a future post).
In many ways, successful pickup has a lot in common with successful affiliate marketing – you need to make the offer attractive, you need to match the approach with your target's demographic, and you need an attractive "call to action". The showmanship doesn't hurt either.
-
Later that evening, affiliate network Market Leverage hosted a blogger dinner at Switch at the Encore by Wynn.
(Left to right): David Brim (Izea, back to camera), Market Leverage founder and CEO Michael Jenkins, Ms Danielle, Nate Whitehill (Unique Blog Designs).
Michael also announced the launch of Market Leverage's Greenlinks – a series of video help videos, at the dinner.
Aside from the great seafood we had, it was also a good opportunity to get insight into Market Leverage's operations from Mike Kelly (ML's first affiliate manager) and Jen Fluker (ML's second affiliate manager).
-
Meeting Steph
Undoubtedly, one of the advantages of attending Affiliate Summit is being able to meet networks and get a feel for the affiliate managers you'll be working with. Meeting them in person also means you have a high chance of being accepted into their network.
I'd been talking to Stephanie Lichtenstein from Andy Rodriguez Consulting over twitter and it was a pleasure to meet her in person. In fact, I swept her off her feet: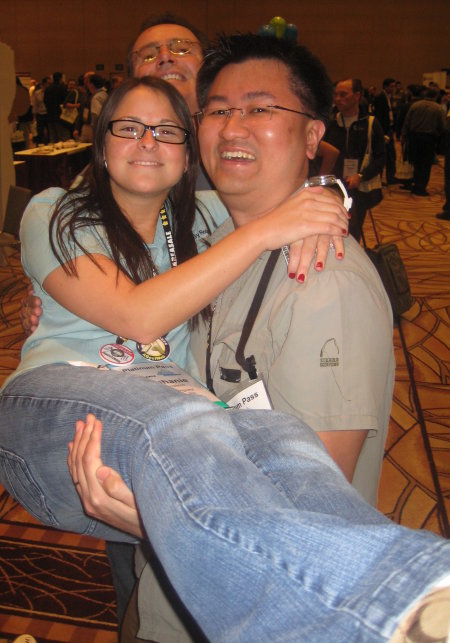 Steph, me and Billy Kay Knoblach
Here is a video Steph put up on youtube (it's received positive feedback from the twitter community)
[youtube]http://www.youtube.com/watch?v=acybZGnU8sw[/youtube]
Steph's definitely got an edge when it comes to relationship building with affiliates and social marketers can take a page out of her book.
-
Affiliate Triathlon
What I like about the Affiliate Summits is how Shawn and Missy combine fun activities with fund-raising for worthwhile causes. This year's charity: the National Breast Cancer Foundation.
Some of the "competitiors" were dressed to kill too.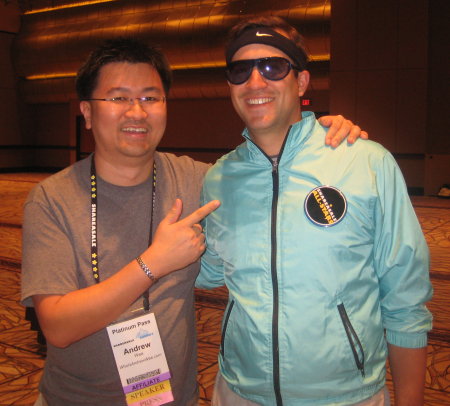 ShareASales CEO Brian Littleton in his 80s Miami Vice (LA Gear?) get up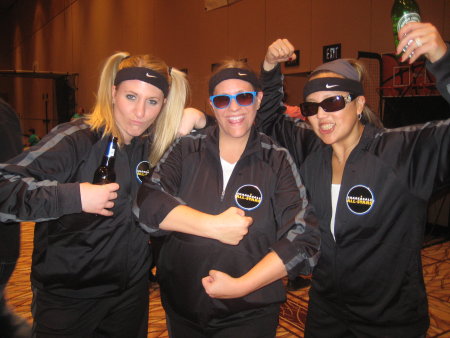 The ladies from the set of Kill Bill 3: Affiliate Ninjas. Or possibly the ShareASale team (Jessica Sander, Sarah Beeskow, Carolyn Tang).
-
Some key takeways:
Video Marketing will continue to be grow this year, with merchants like Buy.com integrating solutions from Qoof and ToldYa! into their affiliate platforms. Buy.com's Melissa Salas, Qoof's Michael Stefansky and Market Leverage's Mike Jenkins gave some good insights during their panel which smart affiliates will be able to utilize in their campaigns.
PPC Pay per click marketing: continues to be a red hot topic with numerous sessions during the seminar track devoted to tracking, optimizing and automating the process. As PPC usage becomes more sophisticated, tools like Wes Mahler's Tracking202 lower the barrier of entry for new affiliates.
Boutique CPA Networks: A number of "boutique" style CPA networks are rewriting the rules of affiliate marketing. While some affiliate manager are of the "I am here just to tell you the best offers and negotiate payouts for you" mindset, smaller, agile networks like Convert2Media (helmed by Ralph "Ruck" Ruckman) and Ads4Dough (helmed by Jason "Smaxor" Akatiff) are rewriting the rules of what a network is, by going the extra mile to provide guidance to new and experienced affiliates. The fact that the networks are run by top affiliates well versed in white hat and black hat traffic and affiliate tactics also means that they can provide useful and relevant advice.