I'd been talking to Software Project's Mike Peters about the value of social media tools like Twitter and how much value they add to your internet business, and he came up with some interesting analogies.
In the "chatterspace" of micro-blogging platforms like twitter, it's not uncommon to see posts like "Feeling hungry. Going to get a burger" or "Just picked a bunch of lint from my belly button. Yuck!". The question is, does this help or hurt your brand?
Mike alluded platforms like Twitter to the reality show "Big Brother" where "voting is done by people at home, people at home typically vote out all those who don't say much, don't swear, don't take enemies etc. Those type of people typically end up being the first to leave"
As the current situation stands, the rabble rousers sometimes do end up with the most number of twitter followers by virtue of the "freakshow factor".
Being able to garner a following because you're excellent at stirring up controversy may bring the crowds, but are you much better than merely winning the title of the "Rodney Dangerfield of Microblogging" together with its accompanying "I can't get no respect" title?
Additionally, Mike adds that most Twitter users see the channel as entertainment, rather than a bona fide communication tool, he goes on to say "if you compare this to Twitter, people want to follow those that will create controversy, swear, say stupid things, post a crazy video here and there, much more than they want to follow professionals who are going to post nothing but quality content".
So how do you account for the fact that the most popular National Geographic program has 1% of the ratings of a Big Brother? It has to do with the audience profile and the program format.


Survivor: Gabon
Take the winners of the Survivor reality show, they're usually quiet, fly-under-the-radar, non-controversial, diplomatic individuals. This probably wouldn't fly in either Big Brother or Twitter. Being subtle or quiet doesn't work the excitement factor.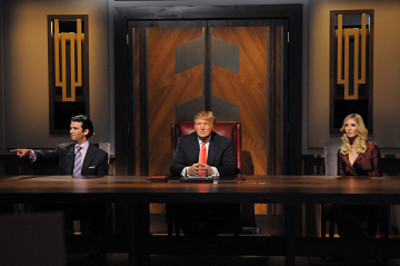 Donald Trump's The Apprentice
If you're hoping to pick up business lessons from reality TV (hopefully it's supplement other forms of learning!), Donald Trump's The Apprentice model is a close analogy to business life. In Apprentice, in order to win you need to be a hustler. You need to lead by example, avoid acquiring enemies and win the respect of both your team members and your boss.
-
Microblogging now has a lot of similarities with blogging when it first became popular, with bloggers initially writing about what they had for lunch or how much they spent on a shopping trip (some still do this).
But as the medium evolves, I'm sure like blogging, we can expect to see the content on microblogging platforms get more sophisticated.