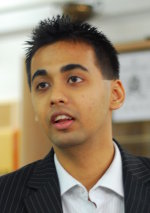 Rachit Dayal is a Singapore-based internet marketing consultant who focuses on traffic generation, sales conversion and business growth strategies for entrepreneurs and businesses.
He's also a Google AdWords Certified Professional and has managed a number of marketing campaigns for businesses going the online route. I invited him on the Friday Podcast and he mentioned a recently client for whom he increased monthly revenue from $2,000 to more than $40,000 mainly through the use of AdWords and Google's suite of webmaster tools and other resources.
In many cases, Rachit often goes to free resources, even though he subscribes or has bought paid ones.
This'll be an interesting interview for new and intermediate level marketers, as you'll discover:
How Rachit got started with internet marketing
AdWords campaign set up and optimization tips
Keyword tools to enhance your PPC campaigns
How you can use analytics tools to enhance your profits
Rachit's conversion system including techniques you can use now
Alternative uses for Google AdWords for your marketing efforts
Check out the podcast below:
Friday Podcast: Rachit Dayal
[ 47:12 ]
Play Now
|
Play in Popup
|
Download
(591)
Links:
Other resources: