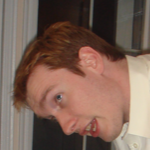 I first met PPC affiliate John Hasson at ShareASale's "Party Under The Stars" party at Affiliate Summit West earlier this year. We were eating a heartattack-inducing tiramisu/ice-cream concoction and talking about our businesses.
John spoke at the "Meet The Experts" session chairing a table on PPC affiliate marketing. At the recent Affiliate Summit East in Boston, John presented a session on PPC marketing.
During the course of our discussion, I was pretty amazed at how John's brought his programming skills to automate and employ leverage in PPC campaigns.
We also talked about:
How John got started as a programmer early on and his first experience at generating $600 a day through PPC arbitrage
How he made his transition into affiliate marketing
Tips to succeed in PPC affiliate marketing
You can access the Friday Podcast below:
Friday Podcast: John Hasson
[ 41:42 ]
Play Now
|
Play in Popup
|
Download
(904)
Note: John was travelling as part of a project he's working on and the line dropped a  number of times and the connection wasn't the best. Listen in for some great tips though.
You can visit John's blog at JohnHasson.com