Affiliate Summit co-founders Shawn Collins and Missy Ward present innovative events in conjunction with their signature Affiliate Summit events. They organized an affiliate road rally when I was in Las Vegas earlier this year, with about 20 affiliates and networks taking part. It was truly radio control mayhem as our radio signals crossed and cars, trucks and other vehicles careened into the human drivers and into the wall.
This time round, the next Affiliate Summit West in Las Vegas will feature an Affiliate Triathlon, billed as "designed for affiliate marketers by affiliate marketers". As affiliate marketing gives most successful affiliates the option to eat and sleep as much as they can comfortably tolerate, the tendency is to put on a little weight around the waist, thighs, face, etc. (With the exception of a couple of notables like Shawn, Missy, Heather Paulson, Ros Gardner, Amit Mehta, Chad Frederiksen, John Hasson, Nickycakes – who are the healthier minority among the affiliate majority).
All proceeds from the event go to charity, which will include the National Breast Cancer Foundation. It'll be a fun event for sure, though I'm hoping Shawn will give more details. Maybe this year, we'll see Heather in her bikini at the Rio pool taking on all challengers?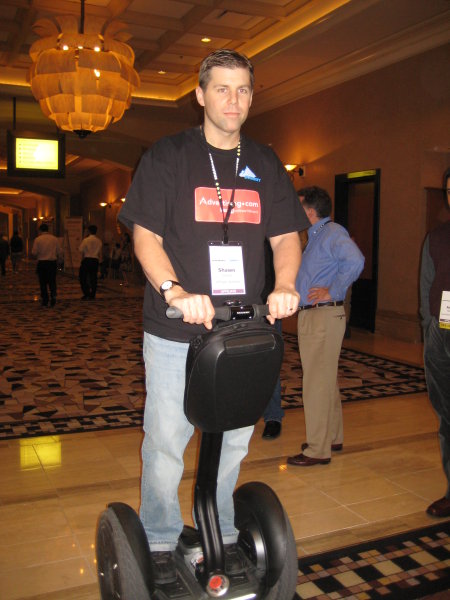 Shawn Collins on his preferred mode of transport
Affiliate Summit West 2009 will be from Jan 11-13 in Las Vegas at the Rio All-Suite Hotel & Casino.
Get your tickets early to avoid disappointment.
Tip: Use promo code ASW09WHOISAW to save 10% off any type of pass